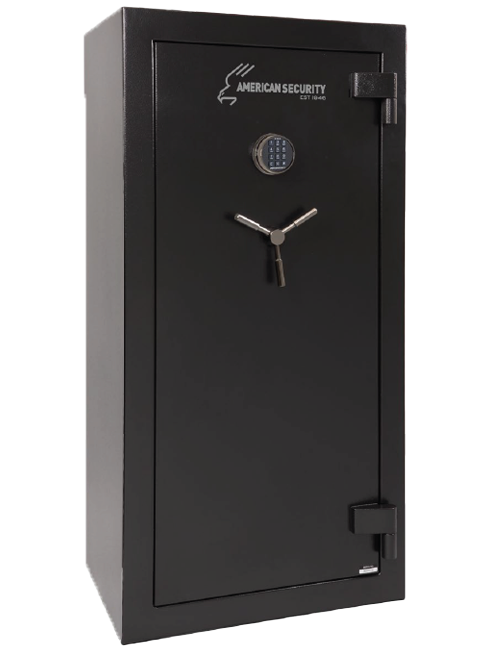 Residential Safes
At Holder's Total Security, we have a wide variety of residential safes to provide that ability. The right safe will protect your valuables by deterring robbery, burglary and internal theft.
Our inventory of American Security gun safes come with a lifetime warranty that covers damage caused by fire and theft. Composite safes are burglar resistant and fire proof and affordable solution for protecting important documents and valuables. Fire safes will maintain an interior temperature less than 350°F when exposed to fire for a period of one hour at 1700°F or for a period of two hours at 1850°F.
When you're looking for a residential safe, there's no better place to look than Holder's Total Security in Tulsa, Oklahoma. Since 1959, we've been providing the best safes to business and home owners as a way to help them effectively secure and manage their most important assets.
Gun Safes
Burglary Safes
Floor Safes
Composite Safes
Depository Safes
Electronic Safes
Fire Safes
Timed Access Cash Controllers
Stor-It Cabinets
Call us Today!
---
Gun Safes
The American Security® SF GUN SAFE offers both performance and value. For burglary protection, it has a stout 3/16"- thick steel plate door. For fire protection, it is lined with 3 to 4 layers of drywall that are strategically engineered for optimal fire protection. This enables the SF Gun Safe to pass a verified 60-minute fire test at Intertek, an independent testing laboratory.
Features
SF Series - 60 Minute Fire
TF Series - 30 Minute Fire
Handgun Security
Security Feature
Four-way bolt work
14 massive 11/4" chrome plated bolts
Anchor holes provided
Call us Directly (918) 663-8660
Request Details
Gun Safe Lifetime Warranty
If you are the original owner of an AMSEC gun safe that suffers damage due to theft or fire, provide us with a properly filed police report within 30 days. With absolutely no cost to you, which means: free parts, free labor and free freight. We will wither repair or replace (Our Option) with a current production model of comparable value. For additional asstistance, please contact your local dealer. We will be standing by ready to take immediate action to get your valuables quickly secured back in a quality built AMSEC Safe.
No Cost - Break-in Warranty
If your AMSEC gun safe is forcibly entered, we will replace or repair it, free of charge.
No Cost - Attempted Break-in Warranty
If your AMSEC gun safe has been subject to a drill, punch or pry attack and has performed successfully by keeping the intruders out, it will be repaired or replaced free of charge.
No Cost - Fire Warranty
If your AMSEC gun safe has been subject to a home fire, it will be repaired or replaced free of charge.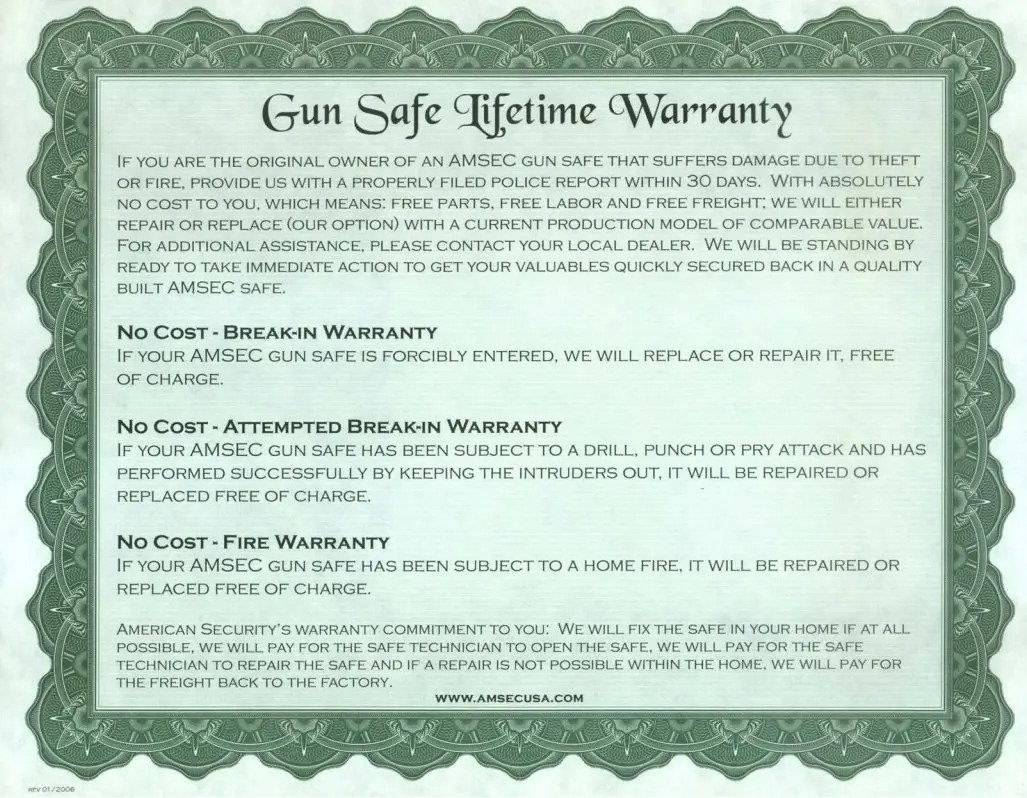 Composite Safes
American Security CSC SERIES COMPOSITE SAFES are an affordable solution when you want to protect both documents from fire and valuables from burglary attacks. During extreme testing procedures the CSC SERIES COMPOSITE safes passed a 2-Hour, 350°F factory fire test certification.
Door Features
Overall thickness of 4-5/8" and is constructed with a 2" defense barrier of outer and inner steel plates creating a burglary resistant structure enclosing a unique proprietary, fire resistant material
Body Features
2-7/8" double wall steel construction enclosing a unique, high-density fire and burglary resistant composite material
Durable powder coated adjustable shelves
Removable casters provide easy delivery and installation
Fire Endurance: 2 hour, 350°F factory fire rating. Tested at temperatures up to 1700°F
Heat expandable intumescent door seal guards contents against severe fires
Request Details
Electronic Safes
American Security's IN-ROOM ELECTRONIC SAFE, with its easy installation, maintenance and management features has become a popular safe in the hospitality industry. Designed with the traveling guests in mind, the IRC916E will adequately secure laptop computers, cameras, jewelry and other valuables in the most user-friendly safe made.
Features
EST Series Home Security Safes
IRC916 In-Room Electronic Safe
Request Details
Didn't find what you were looking for?
Contact us directly or visit our manufacturers website for specific product details.