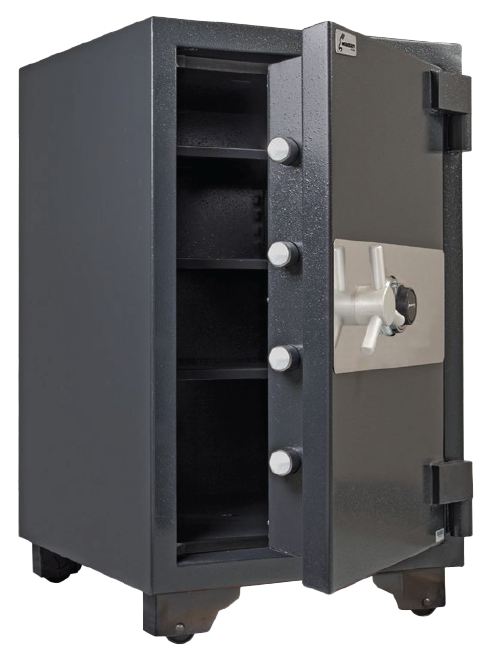 ---
When you're looking for a commercial safe, there's no better place to look than Holder's Total Security in Tulsa, Oklahoma. Since 1959, we've been providing the best safes to business and home owners as a way to help them effectively secure and manage their most important assets.
Commercial Safes
At Holder's Total Security, we have a wide variety of commercial safes to provide the ability to effectively secure and manage any and all of your valuables whether you own a restaurant or run a small office. The right safe will protect your business by deterring robbery, burglary and internal theft.
Gun Safes
Burglary Safes
Composite Safes
Depository Safes
Electronic Safes
Fire Safes
Timed Access Cash Controllers
Stor-It Cabinets
Call us Today!
---
Composite Safes
American Security CSC SERIES COMPOSITE SAFES are an affordable solution when you want to protect both documents from fire and valuables from burglary attacks. During extreme testing procedures the CSC SERIES COMPOSITE safes passed a 2-Hour, 350°F factory fire test certification.
Door Features
Overall thickness of 4-5/8" and is constructed with a 2" defense barrier of outer and inner steel plates creating a burglary resistant structure enclosing a unique proprietary, fire resistant material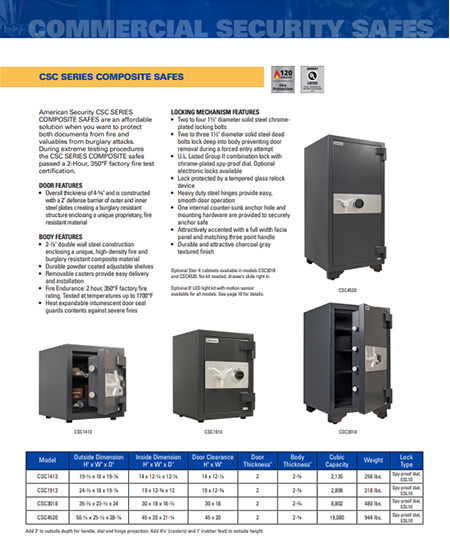 View Details (PDF)
Body Features
2-7/8" double wall steel construction enclosing a unique, high-density fire and burglary resistant composite material
Durable powder coated adjustable shelves
Removable casters provide easy delivery and installation
Fire Endurance: 2 hour, 350°F factory fire rating. Tested at temperatures up to 1700°F
Heat expandable intumescent door seal guards contents against severe fires
Request Details
Depository Safes
American Security's DS Series Depository Safes are designed to provide immediate deposits and storage for cash, jewelry and miscellaneous valuables. Deposits can be made to a locked compartment via a top-loading rotary hopper, a reverse or a front-loading deposit door.
Features
DS Series "B" Rate Rotary & Front Loading
DS Series Till Storage Depository Safes
Money Manager Series
Retail Money Manager Safes
BWB Series - Wide Body Cash Control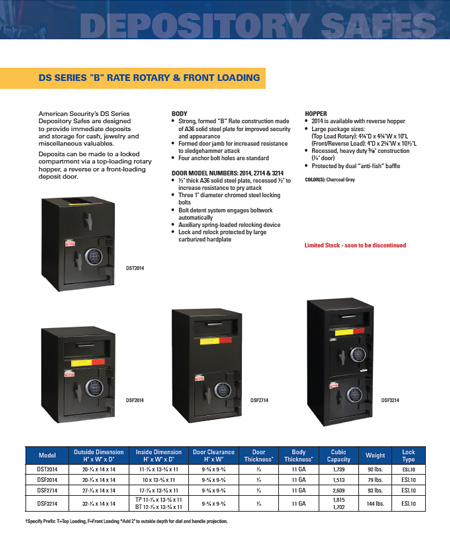 View Details (PDF)
Depository safes are designed to offer complete cash management versatility with a wide selection of depository options such as a top, front or rear load depository, one to three deposit slots or a pull- out deposit drawer.
Depository Safes allow the cashier to keep only the necessary funds available in the register. For more Information please call time accessus at 918-663-8660.
Request Details
Didn't find what you were looking for?
Contact us directly or visit our manufacturers website for specific product details.